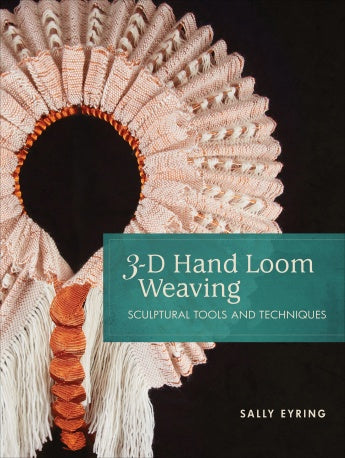 3-D Hand Loom Weaving; Sculptural Tools and Techniques - by Sally Eyring
Weaving the shape, not just shaping the cloth! Now, for the first time, handweavers have the tools and techniques to allow them to weave the 3-D shapes they want, on their own looms. Three new techniques are at the core of this exploration: weaving expanded areas, weaving dense areas, and weaving with infinite tensioning.
By showing the benefits of challenging every aspect of the weaving process and breaking some of the old rules, Eyring helps handweavers free their skills to design the shapes they want to create, and then weave them. Start by understanding the terms invented to explain the processes, and the instructions for building the innovative weaving tools that make 3-D weaving possible. Instructions for using the new techniques offer clear details, options, and tips for making challenges work for you.
With a minimum of new tools to build or loom modifications to make, three fast and easy projects allow you to try the techniques on a four- or eight- shaft loom—and to make an actual project rather than just a sample. Finally, a photo gallery of spectacular expert-level creations serves as a resource to inspire your next designs. If you dream in 3-D, why not learn to weave in 3-D?
Size: 8 1/2″ x 11″ x 1″ | 260 color images and diagrams | 192 pp
Binding: hard laminate case wire o
---
Share this Product
---
More from this collection