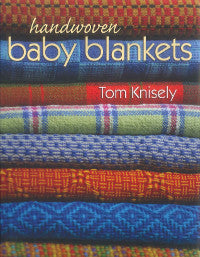 Tom Knisely, has design collections and instructional DVDs on looms, weaving, and other weaving matters published by Interweave press. He is the author of the popular Weaving Rag Rugs and Handwoven Table Linens.

What better way to welcome that precious, tiny new person than with a luxurious, handwoven blanket! These beautiful, colorful designs will appeal to today's contemporary moms, as well as lovers of traditional weaves.
More than 30 snugly cozy projects for baby
Plain weaves and fancy weaves, for everyday or special occasions
How to choose the best materials
Projects for both 4 harness and 8 harness looms
2015; paperback; 101 pages, color. 
---
Share this Product
---
More from this collection