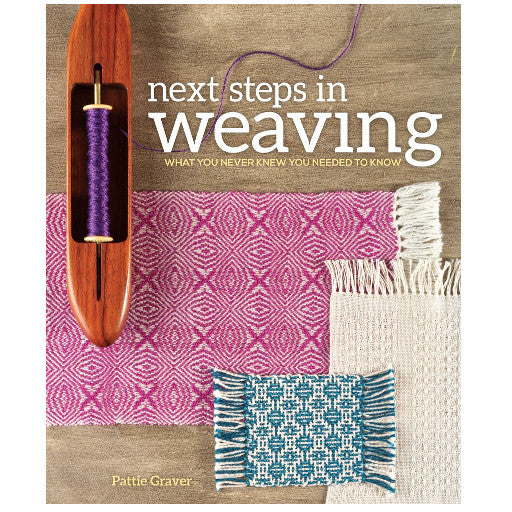 2015; Pattie Graver; 184 pages
Take your weaving to the beyond the basics and into the Next Steps in Weaving
There is a lot to learn about weaving and as a new weaver you might wonder what the next steps in weaving are in order to grow your skills. Next Steps in Weaving has the answers you're looking for. In this beautiful book by Pattie Graver, former Managing Editor of Handwoven magazine, you'll be introduced to various weave structures and concepts including twill, color-and-weave, overshot, summer and winter, and lace.
Pattie has woven her twenty years of hands-on experience in the pages of Next Steps in Weaving and consolidates hours of classes, self-teaching, information from publications, skills learned from other weavers, and weaving knowledge into this one must-have resource. It will save new weavers lots of time and help you discover your own weaving identity or focus.
This is not just a book of weaving recipes. Each topic is explained and supplemented with instructions for weaving a sampler and a project in order to solidify the concepts and enable you to design you own projects. In addition, the book offers troubleshooting tips and helps new weavers "know what they don't know" in order to expand your weaving expertise.
Although it is primarily concerned with 4-shaft weaving, Next Steps in Weaving also serves as a foundation that will allow weavers to easily grow to 8 shafts. Whether you're new to weaving, have the basics down, or are looking to improve your foundation skills, this book will be an asset to your weaving library.
---
Share this Product
---
More from this collection