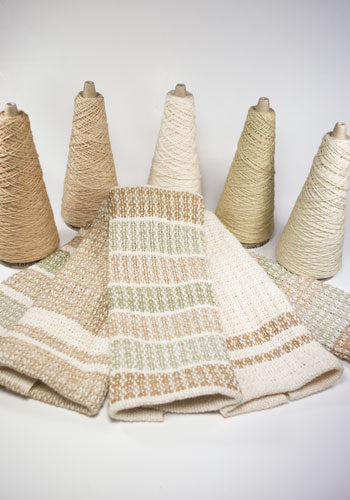 American Maid Wash Cloth Kit
Rigid Heddle Friendly, or 3 Shaft Lace, or 4 Shaft Birdseye Twill
This great kit form Lunatic Fringe uses all five colors, plus natural white, of the American Maid naturally colored cotton line.  The kit makes 10 soft wash cloths, each sized approximately 9" x 10" (22cm x 25cm). The warp is with 3/2 Natural White, and the weft uses 3/2 of dark green, light green, dark brown, light brown, and natural white. A mini cone of 6/2 natural white is included for hems.

Instructions include weaving on a rigid heddle loom using a pick-up stick, or a 3 shaft lace pattern, or a 4 shaft birdseye twill pattern.  Difficulty level is Beginner to Intermediate.
The kit comes with all the yarn you will need to weave the 10 wash clothss, and instructions for weaving the scarves on either a Rigid Heddle Loom or a 4-shaft loom.  If you weave on a 4 shaft loom, you will warp the loom only once, and if you weave on a rigid heddle loom, you will warp the loom twice.

8 EPI,8 PPI
12" Weaving Width
8 Dent Reed
 Sorry, kits do not qualify for bulk discounts.

---
Share this Product
---
More from this collection