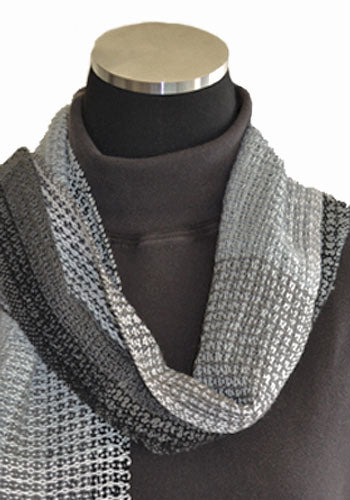 Rigid Heddle Friendly, or use 3 Shafts
Make one scarf as a gift, and keep the second one for yourself. This Lunatic Fringe kit uses seven colors of 5/2 mercerized cotton, and includes all the yarn and instructions to make two scarves that shift through 7 shades of gray from white to black.
The finished size of each scarf is approximately 8" x 60" plus 4" fringe on either end.  The texture of the scarves is made by using a 3-shaft pattern (with use of a pickup stick if you have a rigid heddle loom), and the scarves are very soft and supple. Difficulty level is Beginner to Intermediate.
The kit comes with all the yarn you will need to weave the 2 scarves, and instructions for weaving the scarves on either a Rigid Heddle Loom or a 4-shaft loom.  If you weave the scarves on a 4 shaft loom, you will warp the loom only once, and if you weave on a rigid heddle loom, you will warp the loom twice.
12 EPI,12 PPI
8.5" Weaving Width
12 Dent Reed
 Sorry, kits do not qualify for discounts.

---
Share this Product
---
More from this collection