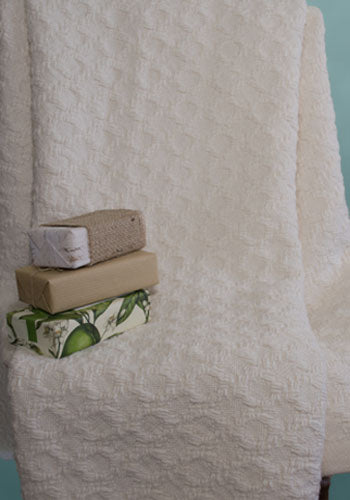 In the Buff Bath Towel Kit
Kits are designed by Lunatic Fringe using Lunatic Fringe high quality yarns.
There is nothing like stepping out of a relaxing bath or a warm shower and wrapping yourself up in a soft, thick towel.  The sustain-ably grown, American Maid™ white cotton in this kit creates a bath towel that is thick and thirsty. Talk about warm fuzzies!  This kit contains enough yarn to weave 4 bath towels (approximately 48"x 28"), or 3 generous bath sheets (approximately 62"x 28").
Both towel and bath sheet instructions are included in the kit.  The 4 or 8 shaft drafts are for use with either the towels or bath sheets. All items are hemmed after weaving.  Instructions are included for looms with 36" weaving width.  Feel free to modify to fit the size loom you have available.  The towels shrink about 15% in length and 20% in width when you put them in the washer and dryer.
Kit contains all white yarns. Difficulty level for this kit is Beginner to Intermediate.  
                        Kits are not included in our bulk discounts. 
---
Share this Product
---
More from this collection