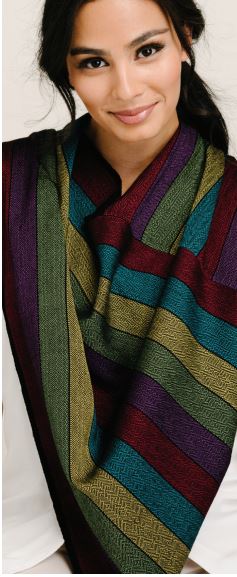 Loom Theory - Radiant Mobius
Charlene Kolb designed and wove this project for Loom Theory: Eight Shaft Shawl Colletion.  The colors are absolutely beautiful! It has a bit of an ethnic feel with the bright colors framed by black. We can not sell the instructions - these must be purchased from Handwoven Magazine - "Loom Theory - Eight Shaft Shawl Collection 2019" - https://shop.longthreadmedia.com/products/eight-shaft-shawl-collection-2019?variant=31179104092202. The collection is $12.99. 

Yarns used are by Venne - The warp is 20/2 cotton and the weft is 40/1 x 2 cotton/wool.  The cotton/wool is a single strand of #20 cotton and a single strand of wool, it very lightly twisted together so it is not strong enough for warp.  It makes for a really nice hand on the finished piece. 
Included in the kit - 6 colors of 20/2 mercerized cotton (50g cones) for the warp; #4064/peacock, #1013/golden, #4072/red-violet, #5053/fern green, #3039/burgundy, #7099/black, for the weft, #7099/black of cotton/wool.

This is an 8 shaft pattern, 21" in the reed.  Sett = 40 epi

 The scarf kit is not dis-countable.
---
Share this Product
---
More from this collection