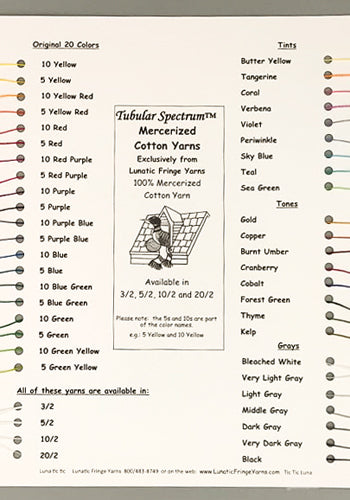 Tubular Spectrum Mercerized Cotton Sample Card
Lunatic Fringe developed a line of Mercerized cotton yarns that they call the Tubular Spectrum™.  The original 20 colors are based on Albert Munsell's color system.  Munsell was a painter, who in 1905 developed the concept of five primary colors, instead of the accepted three.  By using purple and green as additional primaries, he was able to expand the color wheel to include purple blues and red purples.   These yarns are our  interpretation of his concept.  We have expanded our Tubular Spectrum™  color line to include tints and tones of our original colors.
See all 20 original colors plus the 24 tints and with this color card.

All of the Tubular Spectrum™ yarns are available in 3/2, 5/2, 10/2 and 20/2 sizes of yarn.  All of the yarns are available on 3 sizes of cones:  1.5 oz mini cones, 8 oz cones, and 1 lb cone
---
Share this Product
---
More from this collection