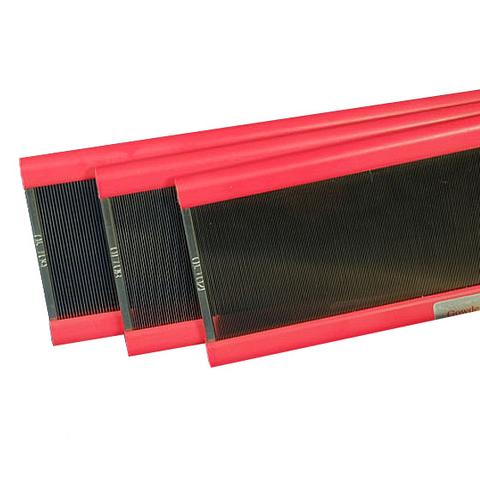 Reeds - Stainless Steel - Standard Sizes
We keep in stock (and special order) stainless steel reeds for common size looms that we sell. We can get other common sizes or a different dent per inch. Just ask. If you would like us to have a custom size reed made go to the custom reed item to order.  Call us if you have a question on which size reed you need.
30 cm/12" - Louet Erica - 4" high
40 cm/15.5" - Louet Jane loom
50 cm/ 19.5" - Louet Erica - 4" high
70 cm/27.5" - Louet Jane, David, Octado and Megado 
90 cm/ 35.5" - Louet David, Spring and Octado
110 cm/ 43.5" - Louet Spring, Octado and Megado 
18" - Schacht Wolf Pup
26" - Schacht Baby Wolf
 These reeds have a hard plastic cap, not duct tape. Most reed caps are red, a few cap may be black, it varies by manufacturer.  All are 4.5" high except the reeds for the Erica looms. 
Sorry, reeds are not discountable items. 
---
Share this Product
---
More from this collection