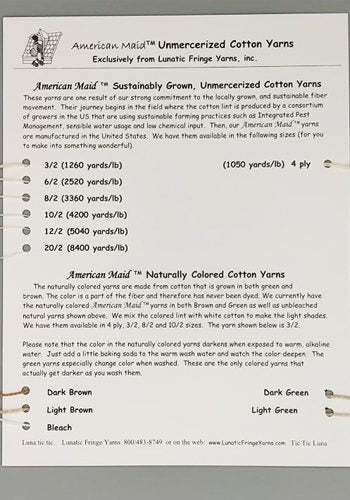 American Maid Naturally Colored Cotton Sample Card
Naturally Colored American Maid™ yarns from Lunatic Fringe come in Dark and Light Brown, Dark and Light Green and Natural White. The brown and green colored cotton yarns becomes darker when washed, especially in alkaline water.  Just add baking soda to the warm wash water and watch the color deepen.  The first wash water is often pretty dirty because when you wash it, it is the yarn's first bath!  You are washing off the dirt from the fields as well as any oils or dirt from the processing.
These yarns are 100% American Made yarns.  Lunatic Fringe tends the fiber from grower to finished yarn. Their goal is to make the yarn as sustainable as possible.
We are carrying the 4 colors in 3/2, 8/2 and 10/2 in 8 ounce cones.  3/2 is also available in natural in a one pound cone, to go with the in the Buff kit. 
3/2 cotton - 1,260 yards per pound
8/2 cotton - 3,360 yards per pound
10/2 cotton - 4,200 yards per pound
---
Share this Product
---
More from this collection