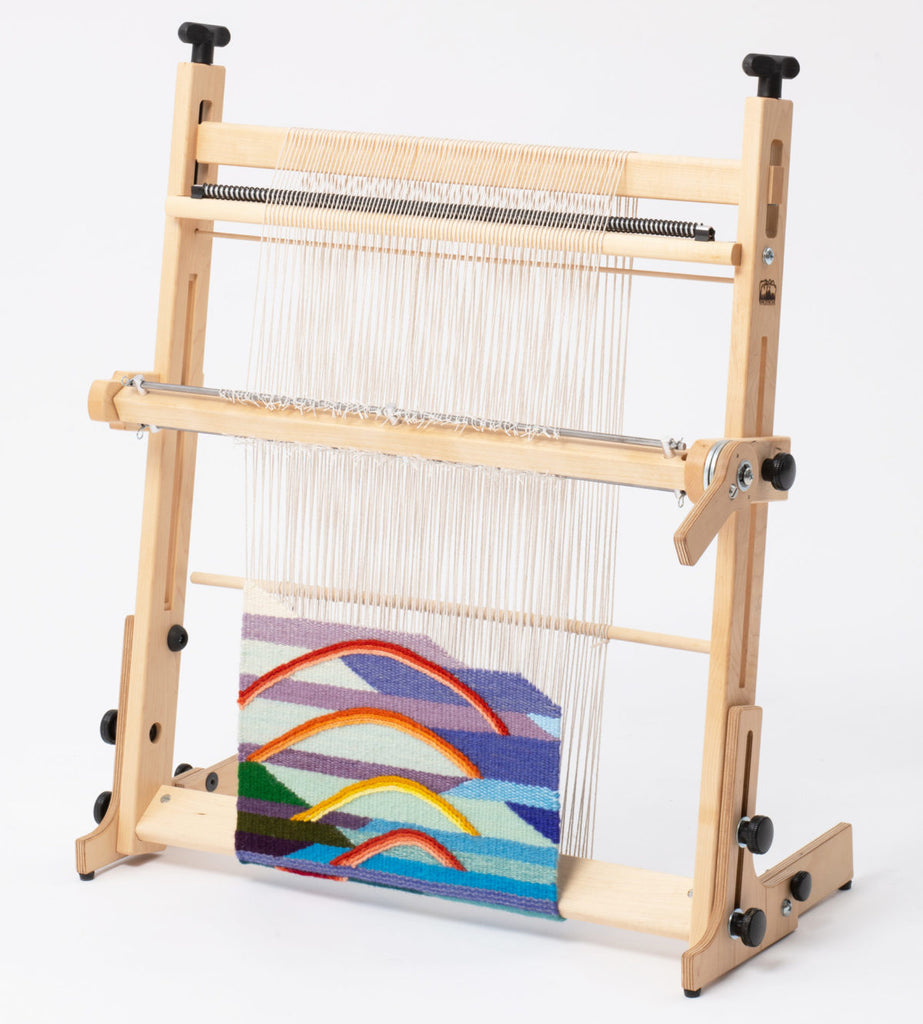 Tapestry weaving has remained unchanged for millennia. The Arras Tapestry Loom embraces these age old traditions with a modern, thoughtfully designed loom. Function, aesthetics and comfort create a sturdy loom that is a joy to weave on. The Arras Tapestry Loom will withstand the rigors of tapestry weaving and is also inviting to weavers new to tapestry weaving.
Features include:
Durable–The Arras Tapestry Loom is made of solid maple hardwood and maple plywood. The Loom will hold its shape even under the high tension tapestry weaving requires, warp after warp, after warp.
Precise tension control.
Generous sizing—20″ weaving width and a continuous warp of 45″. For longer warps, add the optional beam kit upgrade with ratcheted cloth and warp beams.
Convenient warping—set the loom in a horizontal or vertical position to warp in a way that is comfortable to you.
Cartoon holder—Clip your cartoon to the handy cartoon holder. It snaps into place below the warp guide.
Smooth-working and adjustable shedding device that is easily controlled with a hand lever. The lever may be installed on the right or left side of the loom.
100 Texsolv heddles are included with the loom.
4 color-coded coils are included with each loom: 4, 5, 6, and 8 dents. Warps can be doubled in the dents for closer setts.
Convenient and ergonomic design—set the loom height and weaving angle that is most comfortable for you.
The legs fold up for travel or storage.
Portable—the loom weighs 10 pounds
Enjoy an ancient craft on a loom perfectly suited to today's weavers.
Watch a video on the Arras loom - https://www.youtube.com/watch?v=oRNM9odk0iM&feature=youtu.be
---
Share this Product
---
More from this collection