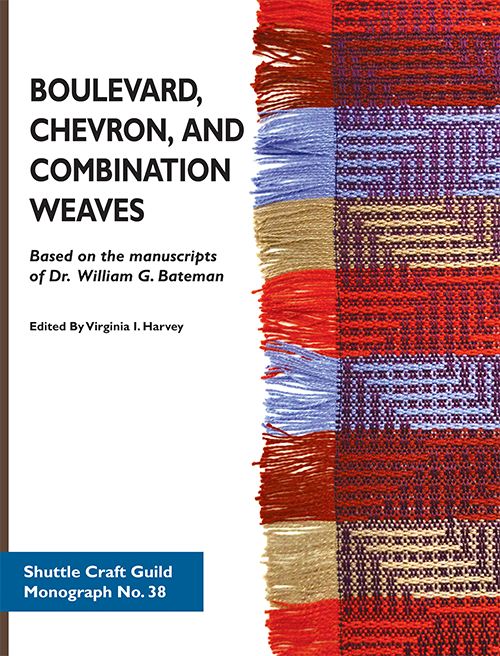 Boulevard, Chevron, and Combination Weaves
Boulevard, Chevron, and Combination Weaves
Based on the Dr. William G. Bateman manuscript
Edited by Virginia I. Harvey
 Retirement provided Dr. Bateman with the opportunity to devote his time to studying and experimenting with weaving structures on his 8-harness table loom. Luckily for us he documented his explorations in a manuscript, which was published by the Shuttle Craft Guild in a series of monographs in the 1980s.
This issue covers the three associated weave systems of park, boulevard, and chevron. Each of these block weaves consists of a tie unit, and a pattern unit. The park weave system begins with one tie block on harness 1, boulevard follows with a 1-2-1 tie block series, and chevron grow to 1-2-3-2-1 tie unit progression. Numerous pattern units are presented that can be interchanged with any of the three tie down systems.  
The monograph includes 23 drafts and black and white photos of woven samples.
All drafts are for 8 or less harnesses.
Softcover, 93 pages
---
Share this Product
---
More from this collection