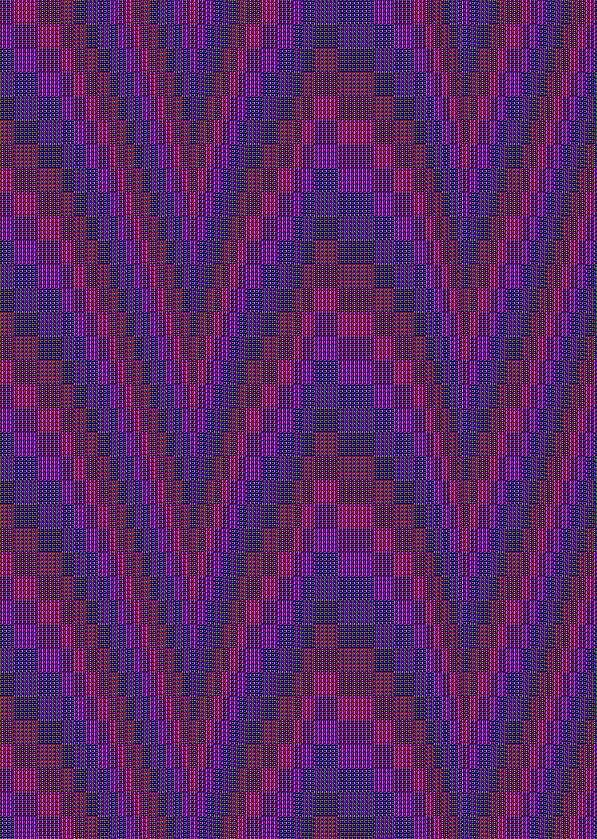 Multicolor Double Weave Kit
We requested a new kit for Convergence and Marian Stubenitsky has designed a beauty.  Four vibrant colorways all on 8 shafts.  The kit is marketed as a scarf kit, it would also make a lovely runner.
Included in the kit - 4 cones of 20/2 mercerized cotton for warp, 2 cones of 20/2 mercerized cotton for weft. Treadling #3 is a textured fabric that uses Colcolastic.  IF you want to weave the textured variation order the kit that includes Colcolastic.
There is enough yarn to make an 8 yard warp for 3 scarves. The warp is 12" - 12.5" in the reed, depending on the sett you use, 48 epi or 50 epi (10 or 12 dent reed). 
The picture shown in the Raspberry Dazzle colorway shows 3 treadling options, there is a 4th option which has 3,035 picks! We recommend weaving that one using a Tempo Treadle or a compu dobby.  
We have wif files, just ask and we'll email those. 
The scarf kit is not dis-countable.
Images from the left - Raspberry Dazzle - woven; computer images of Forest Glen, Raspberry Dazzle, Peacock Pizzazz and Marmalade Dream.
---
Share this Product
---
More from this collection