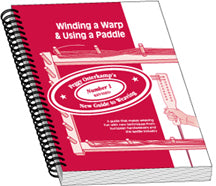 Winding a Warp & Using a Paddle
Winding a Warp & Using a Paddle

The first book in the series, Peggy Osterkamp's New Guide Weaving, guides you through every step of planning a project and measuring the warp threads in preparation for putting them onto the loom. The chapter on paddles explains how to warp with multiple threads at a time. Learn how to plan projects; determine how long to measure your warps as well as how much thread you need for the whole project.
The comprehensive information and tables on yarns and sett (epi.) is a unique and valuable resource!.
Peggy Osterkamp's special skill is making the richness of her training and experience accessible to weaving students.
©2005 • 3rd printing, revised edition; 138 pages; 195 illustrations. Lie-flat wire-0 binding  • 

---
Share this Product
---
More from this collection