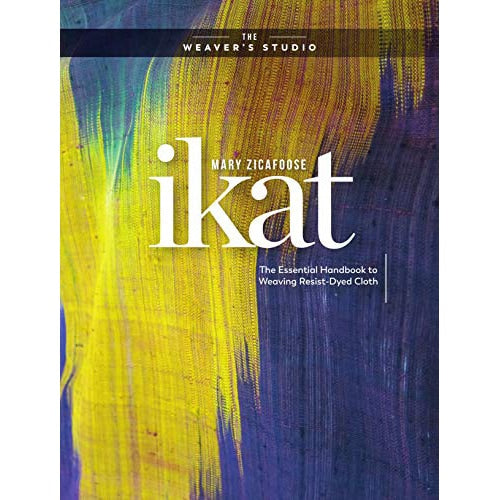 Ikat - the essential handbook to weaving with resists
ikat - the essential handbook to weaving with resists
By Mary Zicafoose
 It's about time the weaving world has a resource—and such and excellent one at that—on ikat weaving. Author Mary Zicafoose has been exploring the ancient technique of ikat for over 40 years. She brings her wealth of knowledge, artistry, and teaching experience to create a book that is both educational and inspirational.
The book includes essays about ikat traditions around the globe; detailed notes on tools, equipment, and materials; and full instructions for tying and dyeing yarn for weaving ikat. The projects chapter provides a step-by-step study guide for ikat techniques. You may never have thought you wanted to be an ikat weaver, but once you delve into this volume, you're bound to become one.
   • Historical background on ikat with gorgeous visual references.
   • Instruction in warp, weft, and double ikat techniques, illustrated in clear sequential steps.
   • Instructions to build ikat wrapping boards.
   • An addendum on painted "faux" ikat using dye pastes and brushes.
   • Acid and indigo dye system recipes and procedures.
   • Compelling projects with detailed instruction taking you from undyed yarn to  woven ikat cloth.
   • A gallery of contemporary ikat created by a range of diversely talented dyers and weavers.
Copyright 2020 Hardcover, 158 pages, full-color
---
Share this Product
---
More from this collection