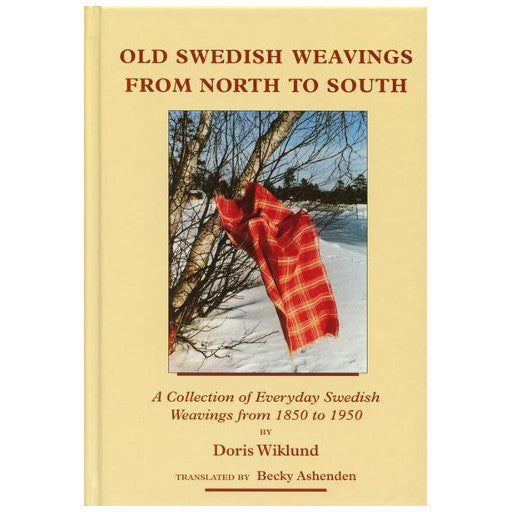 Old Swedish Weavings from North to South
Old Swedish Weavings from North to South - A Collection of Everyday Swedish Weavings from 1850 to 1950 by Doris Wiklund; translated in 2010 by Becky Ashenden, 272 pages, hard cover.
An absolutely incredible collection of 143 older weavings from a variety of locations in Sweden that have been analyzed by Doris Wiklund. Her meticulous instructions for each project include numerous in-depth drawdowns, charts, descriptions and diagrams. Many fine yarns and reeds are used in these older pieces, but Doris encourages the modern weaver to adapt these older patterns to modern yarns and setts and suggests ways in which to do this. The projects are grouped into the following categories: Block damask Simple block weaves (M's & O's, halvdrall, overshot and crackle) Multi-shaft weaves (kuvikas, twill variations and double weave) Simple household weavings (Fabric for clothing, pillowcases, towels, curtains and upholstery) Shawls and ranor (many specialties of northern Sweden) Art weaves (monks belt, rosepath, krabbasnar, rolakan, slarvtjall, noppvav, upphamta and dukagang) Rugs (with rags, weft-faced and rep) Nearly every project is accompanied by a short story which brings the people who either owned or wove these pieces to life. Reading many of these transports you to another place and time, making this book a good choice to just sit down with and read, as well as be inspired to weave projects. This book is a wonderful treasure trove and should be in every weaver's library.
---
Share this Product