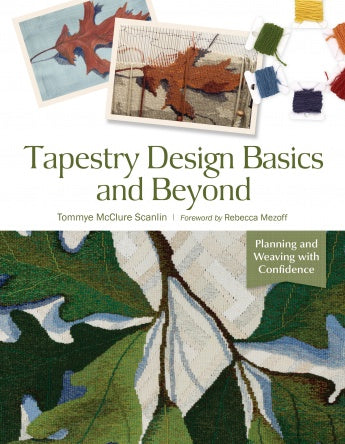 Tapestry Design Basics and Beyond
Tapestry Design Basics and Beyond: Planning and Weaving with Confidence
Once ideas and images come to mind, the next step in weaving your tapestry—interpreting these into effective compositions—may be challenging. Learn here, in ways that relate specifically to tapestry art, the design basics you need to make your best work.
Renowned master weaver Scanlin offers 60 step-by-step "explorations" that lead you from understanding design concepts in your head to using them on your loom. Be inspired to explore "weavable" ways to manage line, shape, color, texture, emphasis, balance, rhythm, and more for results that bring your tapestries to a new level.
In Part 1, dive into the fundamentals of design. Parts 2 and 3 hold explorations—exercises with a tapestry twist. Part 4 teaches ways to turn designs into cartoons. A resource treasure trove offers ideas for finishing tapestries (essential to the design's completeness), helpful templates, glossaries, and other core information to carry forward on your creative path.
Size: 8" x 10" | 250 color images | 192 pp
---
Share this Product
---
More from this collection